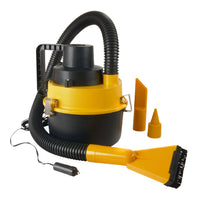 Wet & Dry Ultra Vac
$34.95 USD

$39.95 USD
Translation missing: en.products.product.on_sale
SKU: EL750
A 12V vacuum plus inflator—this tool will pick up dirt, debris, AND liquid when you've got a mess, or get your beach balls ready in minutes.
Wet & Dry Ultra Vac
Wagan Tech's Wet & Dry Ultra Vac is an essential part of any vehicle owner's car care package. Compact, lightweight, and full-featured, the Wet & Dry Ultra Vac can make quick clean-up of your vehicle's interior. Life is messy (especially with kids); make short work of its messes with Wagan Tech's Wet & Dry Ultra Vac.
More than just a Vacuum
Wagan Tech's Wet & Dry Ultra Vac picks up dirt, liquid and debris easily and quickly. Plus, as an added bonus it can also inflate pool accessories, sports equipment and even an air mattress!
The Wet & Dry Ultra Vac comes with a 40" flexible hose, wide (liquid) nozzle, upholstery bristle brush, crevice nozzle, and inflating nozzle. There is nothing else that you need to buy, ever!
Great for RVs, Trailers, and Motorhomes
All Motorhomes, Trailers, and RVs get dirty on the inside; it is an inevitable part of life. A large free-standing upright floor type vacuum cleaner would be great, but the size alone makes it inconvenient for storing and it cannot pick up liquids.
The answer is our Wet & Dry Ultra Vac! It stores easily in the onboard storage areas of your RV, and is able to pick up the accumulated dirt, debris, and liquids.
Convenience
One of the best features of the Wet & Dry Ultra Vac is that it is bag-less; you never need to replace a bag! Simply open up the Vacuum, dump out and rinse the reservoir, dry and re-assemble; it really is that easy and convenient. With all of the included accessories, you will never have to look for anything more than what is provided.
Quick List of Features
Wet & Dry Vacuum
12V DC with 9 ft. Power Cord
One-gallon capacity
Bag-less reservoir
High Visibility Yellow Color
Easy to Clean
WARNING: This product can expose you to chemicals including DEHP, which is known to the State of California to cause cancer and birth defects or other reproductive harm. For more information, go to www.P65Warnings.ca.gov.