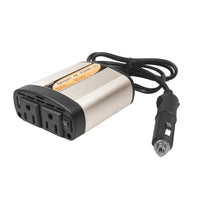 Smart AC® 150 USB+™ (MSW) 12V
$15.91 USD

$44.95 USD
Translation missing: en.products.product.on_sale
SKU: EL2401-5
NOS Inventory (New, Old Stock)
Warranty is 90 days
Free shipping offer does not apply
Smart AC® 150 USB+
The Smart AC 150 USB + is the epitome of power in a small package. Literally fitting in the palm of your hand, the Smart AC 150 USB + offers 150 watts of TrueRated Power with a surge capacity of 300 watts, a 120V AC outlet, and a 2.1A USB Power Port. An absolute necessity for anyone who needs power on the road or on the water!
Features
An upgrade to our original Smart AC 150 USB, the "USB +" model denotes a more powerful USB Power Port (Now 2.1A compared to the older 500mA versions). What this means for you is a more compatible USB Power Port that is able to charge your Smartphone, Tablet, iPod, and other USB Powered devices faster!
If you haven't already noticed, the Smart AC 150 USB + has two AC outlets; perfect for powering your smaller AC electronics. No longer will you fight over a power outlet, the Smart AC 150 USB + provides you with peaceful options!
What is Does
Ideal for powering small devices, charging batteries, powering handheld game system, and breathing life to your laptop, the Smart AC 150 USB + is at home within the confines of your vehicle. With the 2.1A USB Power Port, you can easily charge your cellphone, smartphone, tablet, or USB Powered device all while powering your personal DVD player and gaming system; the Smart AC 150 USB + is a multi-tasking Inverter!
Safety First
At Wagan Tech, we believe our products should not only perform, but be safe too. We all want powerful devices, but first and foremost, we want them to be safe. We have families too, and Wagan Tech whole-heartedly believes in the safety aspect of our products. The Smart AC 150 USB + has many safeties built in to keep you and your loved ones safe during use and while transporting it. With over-load, high voltage, short circuit, high-temperature, and low-battery protections built in, the Smart AC 150 USB + offers an immense amount of power and safety in one conveniently compact package. Rest assured that your family is getting a device that is powerful and safe for them to use!
TrueRated Power™
TrueRated Power is Wagan Tech's coined term for truth in advertising and performance. While actual output wattage of competitor's inverters varies greatly, Wagan Tech inverters help consumers to understand and trust that the number printed on the inverter is the actual output of the device.
Nearly all of Wagan Tech's Inverters feature TrueRated Power. Simply put, our inverters are tested at full load and will sustain that continuous load for 24 hours.
For example, our Elite 400 Watt Pro Inverter will run for 24 hours straight with a 400 Watt load. Our competitors claim "continuous wattage" when in fact most are only rated at 20 minutes of "continuous" wattage. After 20 minutes, the competitor's output wattage will drop down by as much as 25% of their claimed wattage (in a 400 watt inverter, that can be a 100 watt loss!).
Wagan Tech builds our inverters with high peak surges that allow up to 3x the continuous rating to support high surging appliances such as tools, microwaves, air conditioners and refrigerators. Wagan Tech uses top quality components and reliable MOSFET transistors – the key factor in reliable inverter manufacturing.
Quick List of Features
150 watts of TrueRated Continuous Power
300 watts Surge Power
AC Outlets: 2
USB Power Port: 2.1A
DC Input: 12V
Cord Length: 28 inches
Case: Metal with Plastic Caps
Safety Protected
Compact Size
WARNING: This product can expose you to chemicals including LEAD, which is known to the State of California to cause cancer and birth defects or other reproductive harm. For more information, go to www.P65Warnings.ca.gov.