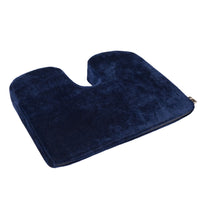 Ortho Wedge Cushion (blue)
$14.95 USD
Translation missing: en.products.product.on_sale
SKU: ZZ9788
This orthopedic cushion allows for tailbone pressure release. The cavity removes the force that would otherwise be pushing upward on your spine.
Ortho Wedge Cushion
The orthopedically designed Ortho Wedge Cushion has a wedge shape with coccyx cut-out to add relief to your tail-bone while giving posture support to your back.
What Is The Ortho Wedge Cushion?
The Ortho Wedge Cushion was developed by Orthopedic Surgeons to help aid in proper posture while seated and to relieve the strain on the coccyx (tail-bone) without adding bulk.
Cushion Foam
The soft and resilient foam on the Ortho Wedge Cushion adds minimal lift and will last the user years of daily use.
Soft Velour Cover
The Ortho Wedge Cushion has a soft Velour Cover that is removable for easy cleaning.
For Everyone
The Ortho Wedge Cushion is a great companion for anyone who sits for long periods: Daily Drivers, the Elderly, Commuters, Office Workers, Truck Drivers, Taxis Owners, Wheelchair Users, and so much more!
Quick List of Features

Provides Coccyx Relief
Soft/Washable Velour Cover
Helps Posture + Adds Lift
Durable Foam
Lightweight
Portable
WARNING: This product can expose you to chemicals including TRIS (2-chloroethyl) Phosphate, which is known to the State of California to cause cancer. For more information, go to www.P65Warnings.ca.gov.