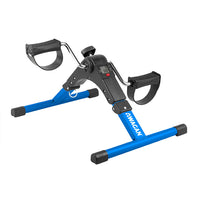 Mini Cycle Go
$44.95 USD

$49.95 USD
Translation missing: en.products.product.on_sale
SKU: EL9734
Multi-task with some leg work-out while you're at the computer or reading a book. Or do some arm exercises during TV time.
Health and Well-Being
The Wagan HealthMate Mini Cycle Go is a multi-dimensional piece of exercise equipment. It can be used on a desktop or table to strengthen and tone your arms, and then placed on the floor to work out your legs and thighs. With a lightweight folding design and adjustable resistance, the Mini Cycle Go folds neatly for storage and is ideal for any person looking to keep active and toned.
Ease of Use
The Mini Cycle Go is a small, compact, and portable exercise machine. It takes up a small amount of space, yet offers big results. At only 5.2 lbs., it is easily moved from floor to table, and then stowed out of the way when not in use.
The sleek and stylish design is appealing to the eye and at just over a foot tall, it can easily fit underneath a table or in the closet. The large LCD display is easy to read and the simple controls make it accessible to any user at any age.
Convenience
Wagan HealthMate has several machines that allow you to toss away that expensive gym membership and stay fit in the comfort of your home or office. So much precious time is wasted traveling to the gym and back, just place the Mini Cycle Go underneath your desk and workout while you work.
Place the Mini Stepper in front of your couch and workout while you watch your favorite show. Wagan truly makes life more convenient and comfortable.
Benefit of Regular Exercise
A regular exercise program can help improve the quality of your life, give you more energy, and combat the effects of aging.
Research has shown that 30 minutes of cardiovascular exercise combined with weight lifting just 3 to 4 times per week can help deliver the following health benefits: weight loss, improve body shape and definition, increase muscle mass, increase physical strength and endurance, enhance flexibility, increase metabolism, decrease chances of injury, improve aerobic fitness, improve coordination and agility.
Simplicity
With very little maintenance, the Mini Cycle Go is a simple machine that offers years of dependable and reliable service. With its folding design, the Mini Cycle Go is compact and can be stored nearly anywhere. What are you waiting for? Grab your favorite book and place your feet in the Mini Cycle Go stirrups to exercise while you read.
Quick List of Features
Portable
Lightweight
Folding
Adjustable Resistance
Large LCD Display
Easy to Use
Low Maintenance
WARNING: This product can expose you to chemicals including DEHP, which is known to the State of California to cause cancer and birth defects or other reproductive harm. For more information, go to www.P65Warnings.ca.gov.