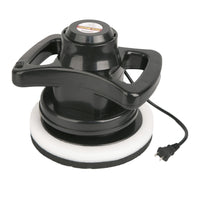 Euro Waxer
$69.95 USD
Translation missing: en.products.product.on_sale
SKU: EL2078
Shops will charge you an arm and a leg for polish and wax services. Get your own 12V-powered buffer for convenient and effortless maintenance.
Euro Waxer
Wagan Tech's Euro Waxer is a detailer's delight. Whether you are sprucing up that older model, or keeping that high performance machine in its most beautiful form; our Euro Waxer can handle the job! You do not have to be a professional to get professional results; the Euro Waxer can give you the results you desire.
Power
Simply stating that something is great does not prove anything. Our Euro Waxer has the proof in the power it provides. It runs off of 110 AC power (standard household plug) and delivers 3500 orbits per minute. If the orbital motion is too fast, it can damage the paint, too slow it will not apply the polish cleanly; we feel that 3500 orbits per minute is a happy medium. Its Random Orbital action ensures that the polish will be applied cleanly and swirl free.
Performance
Wagan Tech's Euro Waxer is a 10 inch polisher with both the applicator and buffing bonnets. The permanent magnet motor is strong and able to maintain its OPM under load (Orbits Per Minute).
Ergonomics
The Euro Waxer has the user in mind with its design. It offers multi-position hand placement via the ergonomic paddle style handles. The design of the handles allows you to use the Euro Waxer at different angles and still be comfortable to use for an extended duration.
Quick List of Features
Ergonomic Paddle Handles
3500 Random Orbits per minute
10 inch Polishing pad
110V AC powered
Powerful Permanent Magnet Motor
Two Polishing Bonnets included
Professional Results
WARNING: This product can expose you to chemicals including DEHP, which is known to the State of California to cause cancer and birth defects or other reproductive harm. For more information, go to www.P65Warnings.ca.gov.