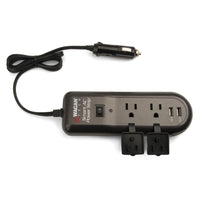 Smart AC® Power Strip
$14.91 USD
Translation missing: en.products.product.on_sale
SKU: /closeout-2621
NOS Inventory (New, Old Stock)
Warranty is 90 days
Free shipping offer does not apply
Smart AC® Power Strip
Wagan Tech's Smart AC Power Strip allows you to have the flexibility of two AC (wall) outlets in your vehicle! Offering 120 watts of TrueRated Power (continuous), 2 USB Power ports (2.1A & 1.0A), and 2 grounded AC outlets, the Smart AC Power Strip will power your needs while making your life more convenient.

On the Road
The Smart AC Power Strip is easy to use, simply plug it in to your vehicle's DC socket (cigarette lighter receptacle) and switch it on; the CBL (Cool Blue Light) will illuminate acknowledging it is receiving power. Plug in your device(s) and you are ready to go! No more fiddling under the hood or messing with clumsy large inverters, the Smart AC Power Strip makes it easy to power your devices anywhere there is a DC Socket!

Compact and Powerful
One of the best attributes of Wagan Tech's Smart AC Power Strip is the size of the unit and the DC extension cord. At 31.5 inches long, you can easily supply power to others not sitting in the front of the vehicle. The Smart AC Power Strip is only 7.7 inches long and 2.6 inches wide allowing it to fit virtually anywhere!

Where to Use
The Smart AC Power Strip is ideal for Cars, Trucks, Campers, SUVs, RVs, Boats, or anywhere there is a DC socket. The 120 watt inverter easily converts your vehicle's DC power into AC power. Even if you are not using the AC outlets on the Smart AC Power Strip, the USB Power Ports are ideal for charging your cellphone, smartphone, tablet, wearables, GPS, radios, or nearly any other USB powered devices.

Safety First
We all want powerful devices, but first and foremost, we want them to be safe. We have families too, and Wagan Tech whole-heartedly believes in the safety aspect of our products. The Smart AC Power Strip includes: Over-Voltage, Over-Load, Short-circuit, Low-Voltage, and High Temperature protections built-in. Rest assured that your family is getting a device that is powerful and safe for them to use!
TrueRated Power™
TrueRated Power is Wagan Tech's coined term for truth in advertising and performance. While actual output wattage of competitor's inverters varies greatly, Wagan Tech inverters help consumers to understand and trust that the number printed on the inverter is the actual output of the device.
Nearly all of Wagan Tech's Inverters feature TrueRated Power. Simply put, our inverters are tested at full load and will sustain that continuous load for 24 hours.
For example, our Elite 400 Watt Pro Inverter will run for 24 hours straight with a 400 Watt load. Our competitors claim "continuous wattage" when in fact most are only rated at 20 minutes of "continuous" wattage. After 20 minutes, the competitor's output wattage will drop down by as much as 25% of their claimed wattage (in a 400 watt inverter, that can be a 100 watt loss!).
Wagan Tech builds our inverters with high peak surges that allow up to 3x the continuous rating to support high surging appliances such as tools, microwaves, air conditioners and refrigerators. Wagan Tech uses top quality components and reliable MOSFET transistors – the key factor in reliable inverter manufacturing.
Quick List of Features
2 – AC grounded outlets
2 – USB Power Ports
120 Watt TrueRated Power Inverter
Surge Power: 200W
DC Powered
On/Off Switch
Compact Size: 2.6 x 7.7 x 1.6 (in.)
DC cable: 31.5" long
About Wagan Corporation
Headquartered in Hayward, CA, Wagan® is a leader in development and manufacturing high-tech products such as power inverters, portable power supplies, fitness equipment, solar power units and other consumer/mobile electronic accessories. Wagan Corporation strives to maintain high quality products while keeping the price reasonable; providing affordable power to people on-the-go. As a global supplier of automotive accessory products and lifestyle accessories, quality and customer satisfaction are always our top priorities.