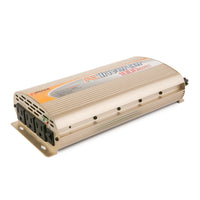 Slim Line 1000W Power Inverter 48V
$49.91 USD

$134.95 USD
Translation missing: en.products.product.on_sale
SKU: /closeout-2294-8
NOS Inventory (New, Old Stock)
Warranty is 90 days
Free shipping offer does not apply
Pictures are of a 12V unit, this is a 48V unit
FEATURES
• 1000W Inverter, 48V systems
• Modified Sine Wave
• Two LED indicators display the operating status of the inverter.
• Multiple AC outlets allow for more than one appliance to be powered at the same time.
• Mounting holes allow for safe stable installation.
• High Peak Power: Allows you to power appliances that require large initial start-up wattage.
• Low Battery Alarm: The inverter sounds an audible alarm then turns itself off if the battery becomes too low.
• Auto Shutdown/Reset Protection: The inverter temporarily shuts itself down to protect itself from overheating.
• Overload/Short Circuit Protection: The inverter automatically turns itself off if the connected load is too large or if it shorts.
Don't forget the fuse!