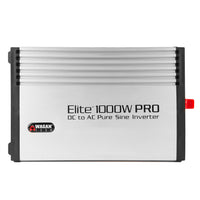 Elite 1000W Pro - 220V
$149.91 USD

$299.95 USD
Translation missing: en.products.product.on_sale
SKU: /closeout-2603-7
NOS Inventory (New, Old Stock)

Warranty is 90 days
Free shipping offer does not apply
Elite™ 1000W Pro Inverter 220V
Wagan Tech Elite Pure Sine Power Inverters convert DC power into 220V AC power that is identical to your home (commercial) electrical power—in true, pure sine wave form. Compared to the traditional inverters, which output in modified sine wave, AC power in pure sine wave form will operate your electronics with cleaner, cooler, and quieter energy.
Front Features
The Elite 1000W Pro is purpose built for the user. On the front panel, you will find 220V GFCI outlets, a 2.1A USB Power port, Digital Display, Power and Fault LEDs, ground terminal, and the Inverter power switch.
Rear Features
On the rear of the Elite 1000W Pro inverter are the fan grilles (for the internal cooling fans), negative and positive terminals, and the DC connector Guard. Also included is a wireless remote to turn on/off the inverter remotely. You will find four mounting points built into the perimeter of the case to ensure the Elite 1000W Pro is able to be mounted where you need it.
Safety Features
The Elite 1000W Pro also features a low battery alarm and an automatic low battery shutdown feature that will notify you when your battery is getting low and will shut down the inverter to protect the battery from over-discharging and possibly damaging it. With over-load, over-heat, short-circuit, low battery, and reverse polarity protection, you can rest assured that your investments are well protected.

TrueRated Power™
TrueRated Power is Wagan Tech's coined term for truth in advertising and performance. While actual output wattage of competitor's inverters varies greatly, Wagan Tech inverters help consumers to understand and trust that the number printed on the inverter is the actual output of the device. Nearly all of Wagan Tech's Inverters feature TrueRated Power. Simply put, our inverters are tested at full load and will sustain that continuous load for 24 hours.
For example, our Elite 400 Watt Pro Inverter will run for 24 hours straight with a 400 Watt load. Our competitors claim "continuous wattage" when in fact most are only rated at 20 minutes of "continuous" wattage. After 20 minutes, the competitor's output wattage will drop down by as much as 25% of their claimed wattage (in a 400 watt inverter, that can be a 100 watt loss!).
Don't forget the fuse!