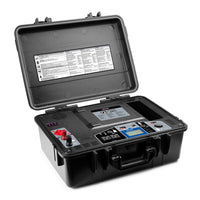 Solar eCase Generator
$350.00 USD

$950.00 USD
Translation missing: en.products.product.on_sale
SKU: EL8822
Looking for portable 110V AC, 12V DC, & USB power? It's the field rechargeable Solar eCase Generator!

Solar eCase Generator
Made of rugged watertight ABS plastic, the Solar eCase is a portable, reliable, and self-sufficient solar generator that can supply you with AC, DC and USB power no matter where you are. No power? No problem when you have the Solar eCase at your side!
The Control Panel
Everything you need is placed on a single, user-friendly panel: 12V DC Socket, Anderson 12V output connectors, 2.1A USB Power Ports (x3), LCD Display, 115V AC Outlets (x2), battery terminals, and standard replaceable ATC safety fuses. Also provided is a secured space for the AC charger to fit in!
LCD Display Panel
Our active backlight illuminated LCD panel allows you to see what is happening with the case in a single glance. "Active LCD display" panel means that it shows what is going on in real time: Charging status, faults, solar or turbine connection, wattage output, USB status, and more! With a soft blue illuminated background, it is easy to see what is happening during the day or at night.
115V AC Power
The case features an 800W modified sine wave AC power inverter that has a surge capability of 1600W. 800 watts is enough power to operate computers, lights, TV, DVD, satellite communications, cameras, radio, electric tools, HAM Radios, or other electronic needs in the field.
The Solar Panel
The Solar Panel is a 4-piece, lightweight, folding panel that offers up to 60 watts of power and fits neatly in the case. Connected to the eCase via Anderson connectors, simply unfold the panel, connect to the case, and lay facing the sun; the charging will begin automatically.
Expandable
With the ability to add additional batteries and additional Solar Panels (up to 150W), the Solar eCase Generator is mission ready for today and adaptable for what lies ahead.
The Case
Fitted into a durable yet lightweight watertight case with pressure relief valve, the Solar eCase is protected while in transport. The resilient, crush-resistant case is made to handle the bumps and bruises of travel, airlines, and other rough handling.
Quick List of Features
Completely Self-Contained Solar Generator
800W/1600 Surge Power Inverter
115V AC Outlets (x2)
12V DC Socket
12V Anderson Connectors
2.1A USB Power Ports (x3)
60W Folding Solar Panel Included
WARNING: This product can expose you to chemicals including LEAD, which is known to the State of California to cause cancer and birth defects or other reproductive harm. For more information, go to www.P65Warnings.ca.gov.