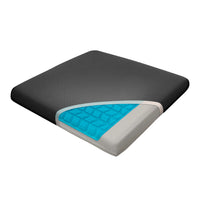 RelaxFusion™ Standard
$40.95 USD

$44.95 USD
Translation missing: en.products.product.on_sale
SKU: IN9111
A new hybrid cushion combines memory foam comfort with gel pods to reduce heat buildup--you'll want this for your next ball game!
RelaxFusion
HealthMate Products RelaxFusion™ line focuses on premium comfort that is safe, relaxing, and supportive. Ergonomically shaped and built with the user in mind, the RelaxFusion line of comfort cushions with keep you cool and comfortable while your body thanks you.
Comfort and Cooling
Our RelaxFusion cushions feature a pillow soft memory foam base with a cooling gel-pod top that reduces heat build-up. This cushion is shaped so that it may fit in any number of places: on a bench, office chair, desk chair, on the ground, wheelchair, floor, or any place that you sit on and are in need of a comfortable cloud-like cushion.
Easy & Safe To Use
The RelaxFusion Standard Cushion is easy to use, just place it where you want and sit on it! The cover of the RelaxFusion Standard Cushion is removable and made of a durable mesh that is machine washable.
The RelaxFusion cushion line is Phthalate-free. This means that the Cushion is safe for you to use and is not harmful to the environment.
Carry Handle
On one end of the RelaxFusion Standard Cushion, there is a handle that makes the cushion easy to carry from one place to another. There is a breathable inner liner that helps to maintain the cooling transfer from gel pods.
Use Anywhere
Whether you sit in an office chair all day, go to a baseball game, ride a train to and from work every day, carpool, or are at the park playing with the kids, this RelaxFusion Standard Cushion will allow you to stay comfortably seated for a longer time
Quick List of Features
Provide unsurpassed comfort during prolonged periods of sitting
Ideal for home, office, or travel
High-density memory foam—soft and super-conforming for premium pressure relief
Cool-relief gel cells refresh body while minimizing heat buildup
Durable mesh cover—wicks moisture and heat from body (removable and washable)
Breathable inner liner—maintains maximum cooling transfer from gel system
Phthalate-free—safe for body and environment
Convenient carrying handle
Aesthetically pleasing
WARNING: This product can expose you to chemicals including TRIS (2-chloroethyl) Phosphate, which is known to the State of California to cause cancer and birth defects or other reproductive harm. For more information, go to www.P65Warnings.ca.gov.