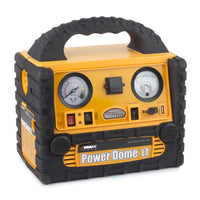 Power Dome™ LT
$214.95 USD
Translation missing: en.products.product.on_sale
SKU: EL2464
Our lightest emergency pack model in the Power Dome™ family. It has all your essentials: jumpstarter, air compressor, AC, DC, and USB power.
Power Dome™ LT
The Power Dome LT is the little powerhouse. Its small size is perfect for today's smaller vehicles where space is at a premium. However, don't be fooled by its small size as the Power Dome LT is feature packed and ready to take on your power needs.
Front Features
On the front of the device, you'll find easily accessible switches for the 200 Watt Power Inverter, 260 PSI Air Compressor, the bright 3 LED worklight, and an AC receptacle as well as a 2.1A USB charging port. As if that was not enough, there are two 12V DC sockets on the front too!
Rear Features
The back of the Power Dome LT has a pair of jumper clamps (sometimes referred to as "Booster Cables") that are neatly integrated into the case, the device's fuse, and the device's Master power switch. The rubber Air Compressor Hose is also neatly tucked into the side of the Power Dome LT in its own compartment to keep it free from debris and to keep it out of the way when not in use.
Size and Shape
We have designed the Power Dome LT to be efficient and small. With a powerful 12V 12ah battery, the Power Dome LT can perform, while its compact size (9.5"L x 6.5"W x 10"H) makes it easy to store in small spaces.
External Armor
The case is made of a resilient yellow plastic that is high visibility for safety and durability. The plastic case is encapsulated in rubber armor for added protection against bumps, and allows it to be securely held (aids in providing a non-slip grip).
Convenience You Can Take With You
Are you a road-warrior, outdoor enthusiast, going somewhere without accessible power, or someone looking for a reliable back-up power supply? If so, the Power Dome LT is likely the right choice for you. Off the back of a car, in the campsite, at the tailgate party, or on the soccer field, the Power Dome LT makes your life easier and more convenient by giving you power where you need it most.
Approximate Battery Run Times
Tool Charger (15W): 7.4 Hours
Cell Phone Charger (20W): 5.4 Hours
Digital Camera (30W): 3.3 Hours
13" Color TV (70W): 1.1 Hours
Laptop (90W): 0.8 Hours
Worklight (100W): 0.7 Hours
Coffee Pot (200W): 0.2 Hours
*Run times are an approximate based on a fully charged new battery.
Quick List of Features
300 Peak Amp Jump Starter
260 PSI Air Compressor
Power Inverter: 200W Continuous
1x AC Receptacle, 2x DC Sockets
2.1A USB Power Port
LED Worklight
AC & DC Chargers + Inflator Accessories Included
WARNING: This product can expose you to chemicals including DEHP, which is known to the State of California to cause cancer and birth defects or other reproductive harm. For more information, go to www.P65Warnings.ca.gov.