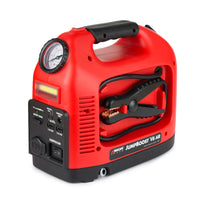 JumpBoost V6 Air
$164.95 USD
Translation missing: en.products.product.on_sale
SKU: EL7550
Perfect for daily drivers, the Commuter gives you power with peace of mind.
JumpBoost V6 Air
Ideally suited for everyday road warriors, the JumpBoost V6 Air is a perfect roadside companion for 4 and 6 cylinder vehicles and motorcycles.
Taking up a minimal amount of space, the JumpBoost V6 Air offers an air inflator, 12V DC Socket, 2 USB Power Ports, 10 LED worklight, and a battery booster (jump starting clamps).
Handy to have while camping, tailgating, or for emergencies, the JumpBoost V6 Air by Wagan Tech is well suited to power your next adventure!
Front Features
On the front of the JumpBoost V6 Air you will find:

Air Inflator gauge (150 PSI)
10 White LED Worklight
Battery Status Button
4 Blue LED Status Lights
12V DC Accessory Socket (Cigarette Lighter Plug Receptacle)
Battery Charging Port
2 USB Power Ports (2.4A Shared)
3 position switch that controls the USB Power Ports ("I" Position) and the Air Inflator ("II" Position)
Rear Features
At the rear of the JumpBoost V6 Air you will find an ample storage compartment that easily stores the included AC and DC Charging adapters and the included Air Inflator accessories.
You don't have to worry about misplacing your chargers and accessories, they easily store in the on-board storage compartment!
Bottom Features
The smartly designed base of the JumpBoost V6 Air holds the 20" long air hose with threaded brass adapter (Schrader type thread). No more fumbling around while trying to stuff an air hose into a tiny compartment, the JumpBoost V6 Air is designed to easily accommodate the air hose into the groove around its base.
The base is equally well-designed with its sturdy and wide stance and "feet" to help aid in stability for the JumpBoost V6 Air while on uneven ground. The base even has a cut-out for the air hose; this ensures that the hose is not crushed by the JumpBoost V6 Air while deployed for use.
A Wagan Tech Original Design
As part of our commitment to innovation and our customers, Wagan Tech designed and built the JumpBoost V6 Air to fill a gap in the market.
The JumpBoost V6 Air has been designed from the ground-up at our Headquarters in Hayward, CA to offer a compact, reliable, lightweight, and affordable Battery Jumper/Power Supply for everyday users.
Moving away from bulky and complicated devices that weight upwards of 30lbs., Wagan Tech filled the need to have a unit that performs, but is easy to store and carry while being light on the wallet too.
Powering Your Life
The Wagan Tech JumpBoost V6 Air with built-in air compressor is an amazing all-in-one portable unit that provides versatility and power exactly when you need it, whether it's on the road, at a campsite, at home, etc. With it you can always arrive to your destination safely, plus have your trusted electronics charged and ready for use.
Keep the JumpBoost V6 Air in your trunk and have confidence that you are prepared for a roadside emergency.
With the JumpBoost V6 Air you can inflate your own tires and jump start your weak or dead vehicle battery - that means never having to wait for a tow truck or flag down an unknown passerby.
Approximate Battery Run Times
Tool Charger (15W): 4.7 Hours
Cell Phone Charger (20W): 3.3 Hours
Digital Camera (30W): 2 Hours
13" Color TV (70W): 0.6 Hours
Laptop (90W): 0.4 Hours
Worklight (100W): 0.3 Hours
-Run times are an approximate based on a fully charged new battery.
Quick List of Features
Jump starter
USB and 12V DC Power Supply
Air Inflator
Bright 10-LED Work light
AC & DC Chargers included
Inflator accessories included
Back-up battery
Weight: 9 lbs.
Check out these videos:
WARNING: This product can expose you to chemicals including DEHP, which is known to the State of California to cause cancer and birth defects or other reproductive harm. For more information, go to www.P65Warnings.ca.gov.