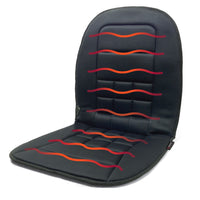 Heated Seat Cushion
$39.99 USD
Translation missing: en.products.product.on_sale
SKU: IN9738
Would you like that warm or extra warm? This full body cushion has high/low settings for those who need extra heat.
Heated Seat Cushion
For those looking for a simple and reliable heated seat cushion, you've found it! Two heat settings, stylish design, and securing straps ensure your day will be toasty warm!
Easy to Use
With all of the features you need and none that you don't, the HealthMate Products Heated Seat Cushion is user friendly. After securing the cushion to the chair with the sewn-in elastic straps, simply plug the cushion in and turn on to your desired heat setting.
Easy controller
The in-line controller is easy to use with a simple 3 position switch: Low-Off-High. Losing the controller is a thing of the past, it's built right into the power cord!
Securing Strap System
The back of the Heated Seat Cushion features two elastic straps that simply slide over the back of the chair while the four cinch straps on the bottom of the cushion easily clamp on to the bottom of the chair to help keep the cushion firmly in place.
Use in Home, Office, or Car
The Heated Seat Cushion can be used in your home, office, or anywhere you need it with the addition of our Optional AC adapter* (Sold separately). Easily take it from your vehicle and bring it in to your home or office so that you may enjoy its benefits there too!
Benefits
Some of the amazing benefits of the Heated Seat Cushion are obvious, warming you up in the cold and keeping you off of that cold seat early in the morning. The Heated Seat Cushion is also good at keeping your sore muscles loose! We get lots of emails from the elderly about how great the cushion is at keeping them warm and their muscles limber too!

Quick List of Features
Secure Strap System
High & Low Heat Settings
In-Line Controller
4.3 Foot Power Cord
5A Safety Fuse
Toasty Warm!
Easy to Use
WARNING: This product can expose you to chemicals including DEHP, which is known to the State of California to cause cancer and birth defects or other reproductive harm. For more information, go to www.P65Warnings.ca.gov.