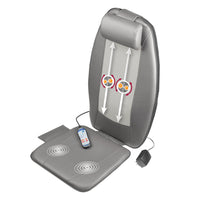 Heated Shiatsu Massage Cushion
$136.95 USD

$139.95 USD
Translation missing: en.products.product.on_sale
SKU: IN9990
Let the Heated Shiatsu Massage Cushion take you away to an Oasis of Calm.
Heated Shiatsu Massage Cushion
HealthMate Products Heated Shiatsu Massage Cushion brings an Oasis of Calm to you wherever you are. With its two Powerful Shiatsu massage motors and adjustable settings, your back and legs will enjoy pure relaxing bliss.
Shiatsu For You
The term "Shiatsu" denotes a form of Japanese therapy based upon the same pressure point principles as acupuncture, in which pressure is applied to certain pressure points on the body using different parts of the hand. Our Heated Shiatsu Massage Cushion delivers a deep kneading massage that can help alleviate sore and tight muscles, improve circulation, and relieve tension.
Oasis of Calm
When using the Heated Shiatsu Massage Cushion, you will experience a gentle kneading massage along your back and vibration on your upper leg areas. This creates a very relaxing and pleasant massage to help ease the stress of your day away. The Heated Shiatsu Massage Cushion will be a great addition to your daily comfort repertoire.
Multiple Function
Our Heated Shiatsu Massage Cushion offers three levels of vibration for your legs (high, medium, and low), and three modes of massage (Upper back, Lower back, and Full back).
At any time you may turn off the massage or the vibrating functions. There is a built in 15 minute shut-off timer, at which time the device will shut down and return the kneading motors to their "rest" position.
The controller has a pocket for it on the cushion, and is smartly designed to fit in the hand nicely and offer the controls in a simple and clean format.
Timeless Styling
The neutral color of the Heated Shiatsu Massage Cushion allows it to complement any setting and the cover looks like luxurious soft leather which emanates a classy look and feel.
Quick List of Features
Optional Heat
AC and DC power adapters included
2 Powerful Shiatsu massage motors
Adjustable nylon strap
Adjustable Seat vibration massage/ intensity
Intuitive wired remote control
15 min auto shutoff
Removable headrest
Full back, upper back, or lower back massage
Relaxes and rejuvenates
WARNING: This product can expose you to chemicals including DEHP, which is known to the State of California to cause cancer and birth defects or other reproductive harm. For more information, go to www.P65Warnings.ca.gov.