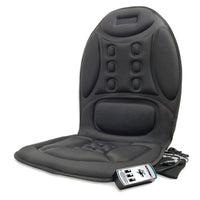 Deluxe Ergo Comfort Rest
$56.95 USD

$59.95 USD
Translation missing: en.products.product.on_sale
SKU: IN9988
Massagers, bio-magnets, and heat relax your body from top to bottom and upgrade your relaxation to the next level!
Deluxe Ergo Comfort Rest
If you're looking for a single do-it-all cushion, you've found it! With adjustable heat, massage, lumbar support, and bio-magnets, the Deluxe Ergo Comfort Rest Cushion is your best choice.
Massage and Heat: How You Like It
The multi-zone remote control allows you to tailor the Heat and Massage to your liking: back, waist, legs, heat and/or massage…it's up to you! The top portion controls the zone and intensity levels while the bottom portion controls heat and/or massage functions of the cushion.
Where to Use
The adjustable strap system allows you to securely fasten the cushion to your car seat, office chair, or your couch at home. With the included AC and DC power adapters, it is easy for you to use the cushion wherever you choose!
Bio-Magnets
Bio-Magnets are strategically placed throughout the cushion and are thought to have positive health effects that can stimulate healing in targeted areas of the body including; the back muscles, legs, waist and arms. Bio-Magnets are a non-invasive form of therapy that is not painful and offer complimentary healing to other types of therapy. It is also believed that Bio-Magnets can help with better blood circulation in the body.*
Benefits
Some benefits of the Deluxe Ergo Comfort Rest Cushion are obvious, warming you up and keeping you off of that cold seat during the morning and evening commute. The cushion is also superb at massaging your muscles while reducing pain.
Quick List of Features
Heat and Massage Zone Controlled
Easy to use controller
Heating and Massage functions
Bio-Magnets
AC & DC power adapters included
Soft material folds for easy storage
Lumbar Support
*Wagan Corporation, Wagan Tech, and Wagan HealthMate make no claims that the Deluxe Ergo Comfort Rest Cushion or any other device can or will cure any disease, sickness, ailment, pain, or medical condition. The Deluxe Ergo Comfort Rest Cushion should not be used for the diagnosis or treatment of any injury, ailment, or medical condition without first consulting your Doctor.