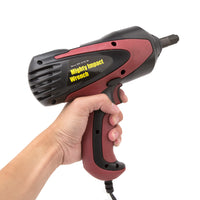 Mighty Impact Wrench
$84.95 USD
Translation missing: en.products.product.on_sale
SKU: EL2257
Mighty Impact Wrench
You are driving, suddenly the vehicle starts to handle oddly, sluggishly. Panicked, you pull over to the shoulder only to find out that the tire is flat. You have a spare tire, but how do you put it on?

Remove the convenient Wagan Tech Mighty Impact Wrench case from your trunk, open it up, take out the contents and get to work!

The Wagan Tech Mighty Impact Wrench is going to help get you back on the road in a short amount of time!

The case contains all of the necessary tools to remove lug nuts:
the Mighty Impact Wrench
spare fuses
two double sided sockets.
The grip of the Mighty Impact Wrench has a rubberized texture to aid in firm handling of the wrench in less than ideal conditions.

Strength
With 271 ft-lbs of max torque, the Mighty Impact Wrench can manage to remove lug nuts off of most passenger vehicles, even those neglected models.
With a no-load speed of up to 5000 rpm, the Mighty Impact Wrench has no trouble spinning off those loosened lug nuts and assisting you in putting them back on.

Even if you are physically lacking in strength, the Mighty Impact Wrench has all of the muscle you need to get the job done!

Design
The shape of the Mighty Impact Wrench lends itself to ease of use by virtually anybody.
The grip has a rubberized texture and is small enough to be gripped by the daintiest of hands, yet large enough to handle large handed individuals.
The Mighty Impact Wrench is ergonomic in design and use, and the 3 position switch is intuitively placed. The body of the Mighty Impact Wrench is robust so it will serve you well for years.

Other features
Built in to the wrench is a bubble level to ensure the wrench is in the optimal position, while a small led light on the front allows you to see your work area in complete darkness.
Quick List of Features
271 ft-lb of torque
5000 rpm (no-load)
11.4 foot power cord
Convenient Molded Carry Case
2 Spare 15A fuses
2 Sockets included (2-way sockets)
3 position switch
Bubble Level
LED Light
WARNING: This product can expose you to chemicals including DEHP, which is known to the State of California to cause cancer and birth defects or other reproductive harm. For more information, go to www.P65Warnings.ca.gov.