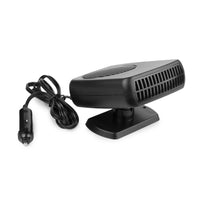 12V Fan/Defroster
$29.95 USD
Translation missing: en.products.product.on_sale
SKU: EL6311
For all those times you needed to sit and wait for your windshield to defrost, now you can speed that up with our DC powered portable heater.
12V Fan/Defroster
The 12V Fan/Defroster is a high-output windshield defroster/defogger in one compact and efficient unit. Decrease the window defrosting/defogging time while increasing the safety of your drive!
Universal Design
The swing-out handle on the 12V Fan/Defroster acts like a hair dryer so you can defrost/defog your windshield. The included pedestal mount allows a full 360° rotation of the unit to direct the heat where it's needed.
Powerful
Most defrosters on the market only offer up to 80 watts of power; the 12V Fan/Defroster puts out nearly double at 150 watts!
Simple to Use
With the attached 60 inch cord, it is easy to put heat where it is needed. Simply plug the cord into your car's DC (accessory) socket and select heat or fan mode on the 12V Fan/Defroster.
Two Modes: Fan or Heat
Sometimes you don't need the heat setting; that is where the fan comes in. Simply select "Fan" mode for a gentle breeze.
Quick List of Features
150W of Power
Fan + Heat Settings
Folding Handle
360° Rotating Pedestal Mount
12V DC Powered
60" Power Cord
Compact
WARNING: This product can expose you to chemicals including DEHP, which is known to the State of California to cause cancer and birth defects or other reproductive harm. For more information, go to www.P65Warnings.ca.gov.