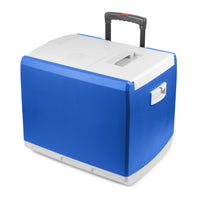 [Refurbished] 46 Quart Cooler/Warmer
$114.98 USD

$219.95 USD
Translation missing: en.products.product.on_sale
SKU: /refurbished-6244
These are refurbished items - for brand new units, click here.

We have a limited number of our popular 46 Quart Cooler/Warmer that have shipping/storage/handling damage. Our loss is your gain. 
Each device will have different cosmetic flaws. No choice in selection.

All units are fully tested and 100% operational

May be missing accessories including box, manual, etc.

90-day warranty on refurbished items

Free shipping offer does not apply
*The above closeout rules supersede all other printed materials regarding the product including manuals, other internal and external website content, etc.
Portable cooler and warmer 2-in-1! No ice needed to keep your food and drinks cold. Extra-tall for holding wine and 2-Liter soda bottles.
No Ice Needed!
You asked for it, now here it is! The massive capacity 46 Quart 12V Cooler/Warmer is ready to carry all of your food and drinks with its cavernous interior. Do you have a large family, long road trip, or just carrying lots of food? With the 46 Quart 12V Cooler/Warmer it's not a problem!
Warming & Cooling Modes
The 46 Quart 12V Cooler/Warmer looks like a cooler, acts like a cooler, but can also heat up to keep your warm food piping hot. Offering both cooling and warming modes, the 46 Quart 12V Cooler/Warmer is all you need for food and drink transportation & storage.
Family Sized Convenience
Our 46 Quart 12V Cooler/Warmer is capable of handling the family's entire lunch or dinner menu! Load the 46 Quart 12V Cooler/Warmer up and head out to the park or beach. With the folding handle and built-in wheels, rolling this cooler/warmer to the picnic site is a breeze.
Magnetic/Removable Doors
The dual top-loading doors on the 46 Quart 12V Cooler/Warmer are magnetically sealed to keep the cold/heat in and are removable for easy cleaning. There is an additional storage area on the lid to keep the power cord neatly stored when not in use.
Collapsible Handle & Rolling Wheels
The 46 Quart 12V Cooler/Warmer has a collapsible handle and built-in wheels to make transporting to and from the car a breeze. Never again worry about hurting your back trying to carry a fully loaded cooler to and from your site; simply extend the handle and roll it!
Earth Friendly
The 46 Quart 12V Cooler/Warmer has no CFCs or refrigerant inside of the unit; there is nothing to leak out or deplete the ozone. Operating on simple thermo-electric cooling/warming effect, there is no compressor or mess to worry about.
Quick List of Features
Magnetically Sealed Removable Lid
Extra Tall: 2L Soda and Wine Bottle Store Upright
Holds up to 60 (12oz.) cans
2 Removable Internal Dividers
CFC-free cooling (no refrigerant)
Cooling: 36°F / 20°C below ambient temperature*
Heats up to 140°F (60°C)
Control panel features mode settings and indicators
WARNING: This product can expose you to chemicals including DEHP, which is known to the State of California to cause cancer and birth defects or other reproductive harm. For more information, go to www.P65Warnings.ca.gov.