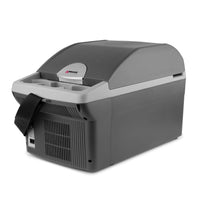 [Refurbished] 14 Liter Personal Fridge/Warmer
$59.98 USD

$134.95 USD
Translation missing: en.products.product.on_sale
SKU: /refurbished-6214
These are refurbished items - for brand new coolers, click here.

We have a limited number of our popular 14 Liter Personal Fridge/Warmer that have shipping/storage/handling damage. Our loss is your gain. 
Each device will have different cosmetic flaws. No choice in selection.

All units are fully tested and 100% operational

May be missing accessories including box, manual, etc.

90-day warranty on refurbished items

Free shipping offer does not apply
*The above closeout rules supersede all other printed materials regarding the product including manuals, other internal and external website content, etc.
Portable cooler and warmer with 2 cup holders! No ice needed to keep your food and drinks cold. Holds up to eighteen 12-oz cans! 12 volt DC-powered.
Convenience
Wagan Tech's 14 Liter personal fridge/warmer is a great way to keep food and drinks cool while on the road. Need to keep your food warm during transport? The 14 Liter personal fridge/warmer can do that too! The diminutive size of this cooler allows storage for your road trip necessities while only taking up a small footprint in your vehicle.
Warming and Cooling
What makes the 14 Liter personal fridge/warmer so great is that it can warm or cool items. When taking leftovers home from the restaurant, switch the cooler/warmer on to "warming mode" and it will begin to heat up instantly. This is a great device to take with you: to the park, tailgating, BBQ, sporting event, or wherever you need to keep items cool or warm.
Easy to Use Design
The 14 Liter personal fridge/warmer is user friendly and lends itself to ease of use. Generous size and two drink holders on the lid allow you to ride in comfort. Built in carry strap allows you to carry the 14 Liter personal fridge/warmer to and from your destination without being awkward.
Earth Friendly
The 14 Liter personal fridge/warmer has no CFCs or refrigerant inside of the unit; there is nothing to leak out or deplete the ozone. The cooler/warmer uses thermo-electric cooling which is a simple transfer of electrical current.
Other Uses
Oftentimes we see our customers need for product uses we never thought of. The elderly like to use this cooler to keep medicine cool while new moms like to use the cooler/fridge to keep breast-milk cold.
Quick List of Features
Switch for selecting cooling mode or warming mode with indicator lights
Cooling: 40°F to 45°F below ambient temperature*
Heats up to 140°F (60°C)
CFC-free cooling (no refrigerant)
No Ice required to keep food cool
Holds up to 18 (12oz.) cans
Designed to fit at front center console or back seat
Two beverage holders at the front
Compartment for storing of power cord
Can be used in the vehicle, home, hotel room, or office**
Adjustable shoulder strap for ease of portability
Detachable 6 foot 12V DC Power Cord
*Cooling range is dependent on the ambient temperature when the unit is plugged into a power source. Once it is unplugged, the internal temperature will eventually acclimate to the ambient temperature.

**Optional AC adapter for use in your home, office, or the dorms. (Sold separately.)
WARNING: This product can expose you to chemicals including DEHP, which is known to the State of California to cause cancer and birth defects or other reproductive harm. For more information, go to www.P65Warnings.ca.gov.