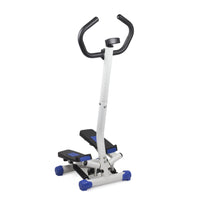 Pivot Stepper
$114.95 USD
Translation missing: en.products.product.on_sale
SKU: EL9732
Stay Active, Fit, and Limber. Pivot Step to a healthier and more active you!Comparing Exercise Machines
We've had a lot of customers wondering what the differences between the Mini-Stepper and the Pivot Stepper are. We've created this quick comparison video that clearly highlights the differences between these two exceptional machines!
Wagan Tech & Wagan HealthMate Videos
We've been hard at work creating videos that help you understand the value of our products. UnBoxing, How-To, Assembling, Product Showcase, and informative videos is what we are focusing on.
Pivot Stepper
Wagan HealthMate's Pivot Stepper is great for anyone looking to get a workout within the privacy of their own home. Keep your body limber and flexible while pivot stepping to healthier glucose and lower blood pressure levels.
The Pivot Stepper offers comfort and convenience in your home or office; pivot step to a healthier and more active you!
Features
The Pivot Stepper is made of steel that is structurally solid, but maintains a lightweight feel. The steps are made of plastic and have traction rubber inserts to keep your feet from slipping and feature a height adjustment to accommodate nearly any size user.
The ergonomic handle bars are triangular to accommodate different grip styles and are covered in a soft foam grip.
The Multi-Function Meter is strategically placed in the center of the support tube so that it can be easily viewed while the machine is in use. The Meter shows: Step count, Strides, Time (Workout Duration), Calories burned, and a Scan function.
Size
Do you have limited space but want to get in a good workout? Wagan HealthMate's Pivot Stepper is a great way for you to stay healthy while maintaining flexibility and fitness while in the comfort of your home or office.

Occupying a small footprint, the Pivot Stepper is a lightweight yet sturdy machine that will serve your fitness needs for years to come and only requires a 17" x 21" amount of floor space. Its small size allows the Pivot Stepper to easily store out of the way when not in use, and its lightweight frame makes transporting it breeze.
For Your Health
Wagan HealthMate's Pivot Stepper is a great solution to your home or office fitness needs. The Pivot Stepper will help you to stay healthy by lowering blood pressure and restoring proper blood glucose levels.
With only 15 minutes of use a day, you can keep your hips and legs more flexible and feel more energized while getting a solid cardio workout.
We're constantly receiving phone calls from our Senior users raving about how well our machines work for them.
From Fitness.gov
The Department of Health and Human Services issued the federal government's first-ever Physical Activity Guidelines for Americans in 2008 to help Americans understand the types and amounts of physical activity that offer important health benefits.

Physical activity is any form of exercise or movement of the body that uses energy. The Physical Activity Guidelines for Americans recommend 60 minutes of physical aerobic activity daily for children ages 6-17 and 30 minutes daily for adults ages 18-64. The Pivot Stepper can help you achieve those goals!
Quick List of Features
Multi-Function Meter
Compact Size
Pivot Motion
Lightweight
Easy to Use
Ergonomic Handlebar
Contemporary Colors
WARNING: This product can expose you to chemicals including DEHP, which is known to the State of California to cause cancer and birth defects or other reproductive harm. For more information, go to www.P65Warnings.ca.gov.