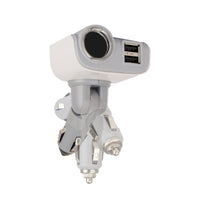 Companion GO-Plus
$5.91 USD

$19.95 USD
Translation missing: en.products.product.on_sale
SKU: /closeout-2882
NOS Inventory (New, Old Stock)
Warranty is 90 days
Free shipping offer does not apply
Companion GO-Plus
Designed for 12V and 24V electrical systems, the Companion GO-Plus provides plenty of power in a compact and stylish package.

Gain Everything, Lose Nothing
Using only a single DC socket to power the Companion GO-Plus, you gain two USB Power Ports and still have a DC socket to power other devices such as cooler, GPS units, and more. 

Power For Everyone
With a 2.1A & 1.0A USB Power Port, your passengers will have the power their devices need at their fingertips.

Pivoting Head
The head of the Companion GO-Plus pivots up to 180° so the optimal position for your power needs can be had; the sleek styling of the Companion GO-Plus will fit with any vehicle interior.

12V and 24V Compatible
Whether you have a standard vehicle (12V) system or a 24V tractor, the Companion GO-Plus will work for you!

Safety Protected
The safety of you and your electronics is important, the Companion GO-Plus is safety fused for overload protection with a replaceable 8A fuse.
Quick List of Features

12V & 24V Compatible
1 DC Socket, 2 USB Power Ports
180° Pivoting Head
Power LED
Compact Size
Safety Fused