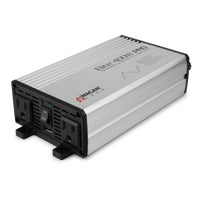 Elite™ 400W PRO (PSW)
$174.95 USD
Translation missing: en.products.product.on_sale
SKU: EL2610
Our Elite™ Series Inverters deliver a pure sine wave for cleaner power, neutral to ground bond for marine applications, mounting points, and 2.1A USB power ports.
Elite™ 400W Pro Inverter
Wagan Tech® Elite™ Pure Sine Power Inverters convert 12V DC (car) power into 120V AC (wall outlet) power that is identical to your home (commercial) electrical power—in true, pure sine wave form. Compared to the traditional inverters, which output in modified sine wave, AC power in pure sine wave form will operate your electronics with cleaner, cooler, and quieter energy.
Elite 400W Pro Front Features
The Elite 400W Pro is purpose built for the user. On the front panel, you will find two 120V AC outlets (the same as found in your home), a 2.1A USB Power port, power and fault LEDs, and the Inverter power switch.
Elite 400W Pro Rear Features
On the rear of the inverter is the fan grille (for the internal cooling fan), negative and positive terminals, and the grounding terminal. You will find four mounting points built into the case to ensure the Elite 400W Pro is able to be mounted where you need it.
Safety and Strength
The Elite 400W Pro also features a low battery alarm and an automatic low battery shutdown feature that will notify you when your battery is getting low (10.5V ± 0.5V) and will shut down the inverter to protect the battery from over-discharging and possibly damaging it (9.5V ± 0.5V). With over-load, over-heat, short-circuit, low battery, and reverse polarity protection, you can rest assured that your investments are well protected.
The Elite 400W Pro also comes with both DC positive/negative terminal leads that can be plugged into your vehicle cigarette lighter receptacle and the Alligator clamp positive/negative cable leads that can be attached directly to your vehicle's battery.
TrueRated Power™
TrueRated Power is Wagan Tech's coined term for truth in advertising and performance. While actual output wattage of competitor's inverters varies greatly, Wagan Tech inverters help consumers to understand and trust that the number printed on the inverter is the actual output of the device.
Nearly all of Wagan Techs Inverters feature TrueRated Power. Simply put, our inverters are tested at full load and will sustain that continuous load for 24 hours.

For example, our Elite 400 Watt Pro Inverter will run for 24 hours straight with a 400 Watt load. Our competitors claim continuous wattage when in fact most are only rated at 20 minutes of continuous wattage. After 20 minutes, the competitors output wattage will drop down by as much as 25% of their claimed wattage (in a 400 watt inverter, that can be a 100 watt loss!).
Wagan Tech builds our inverters with high peak surges that allow up to 3x the continuous rating to support high surging appliances such as tools, microwaves, air conditioners and refrigerators. Wagan Tech uses top quality components and reliable MOSFET transistors; the key factor in reliable inverter manufacturing.
Quick List of Features
Pure Sine Waveform
400 watts of continuous TrueRated Power™ - 800 Watt Surge
12V DC Input – 120V AC Output
60hz Frequency
Over-load, over-heat, short-circuit, reverse polarity protections
Low Battery Alarm/ Automatic shutdown
CE certified and RoHS compliant
Internal Cooling Fan
WARNING: This product can expose you to chemicals including LEAD, which is known to the State of California to cause cancer and birth defects or other reproductive harm. For more information, go to www.P65Warnings.ca.gov.