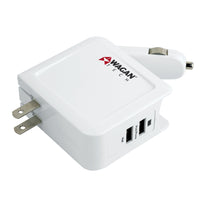 Traveler's Companion Duo
$5.91 USD

$24.95 USD
Translation missing: en.products.product.on_sale
SKU: closeout-3305
NOS Inventory (New, Old Stock)
Warranty is 90 days
Free shipping offer does not apply
Traveler's Companion Duo
With folding AC and DC charging adapters (Wall outlet and Vehicle Cigarette Lighter Socket), two USB Power Ports totaling 3.4A, the Traveler's Companion Duo replaces two chargers in one compact and convenient device. Compatible with nearly all devices including iPhone, iPad, Samsung, Android, and others, the Traveler's Companion Duo is an essential sidekick to your next adventure!
Features
The Traveler's Companion Duo has one 2.4A USB Power Port and a 1.0A Power Port that are capable of charging two USB powered devices at the same time whether you are in a car, bus, hotel, or at home. With a power LED on the front, folding DC and AC charging adapters, the Traveler's Companion Duo is portable, compact, and multifunctional.

How to Use
To use, simply unfold the corresponding plug (AC for the wall outlet or DC for the cigarette lighter socket) and plug the Traveler's Companion Duo into the receptacle; an LED light will illuminate letting you know that it is receiving power. Next, plug in one end of your USB cable to the Traveler's Companion Duo and the other end to the device that you want to charge. Charging will begin automatically, it's that simple!
Safety First
We all want powerful devices, but first and foremost, we want them to be safe. We have families too, and Wagan Tech whole-heartedly believes in the safety aspect of our products. The Traveler's Companion Duo includes: Over-Heat, Over-Load, and Short-circuit protections built-in. Rest assured that your family is getting a device that is powerful and safe for them to use!
Quick List of Features
DC and AC Charging adapters in one unit
3.4A Charging (2.4A and 1.0A port)
2 USB Power Ports
Modern Styling and Compact Design
Apple iPhone/iPad Compatible
Samsung Device Compatible
Android compatible
Dimensions LxWxH: 2.75 x 2.75 x 1.25 (inches)
Safety Protections
Fits in Your Pocket
About Wagan Corporation
Headquartered in Hayward, CA, Wagan® is a leader in development and manufacturing high-tech products such as power inverters, portable power supplies, fitness equipment, solar power units and other consumer/mobile electronic accessories. Wagan Corporation strives to maintain high quality products while keeping the price reasonable; providing affordable power to people on-the-go. As a global supplier of automotive accessory products and lifestyle accessories, quality and customer satisfaction are always our top priorities.