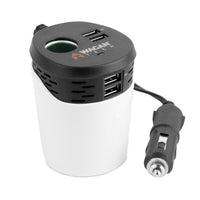 TravelCharge Series PowerCup 6.2
$8.91 USD

$24.95 USD
Translation missing: en.products.product.on_sale
SKU: /closeout-2886
NOS Inventory (New, Old Stock)
Warranty is 90 days
Free shipping offer does not apply
PowerCup 6.2
The Wagan PowerCup 6.2 provides you and your companions with 4-USB ports (2x 1.0A and 2x 2.1A ports) and a DC socket. The shape of the PowerCup 6.2 lends itself to ease of use; just place in a cup holder, plug in the DC cord and you are ready to deliver power to all of your electronic accessories.
You Need This
With portable electronics becoming increasingly power hungry, families are forced to share the available charging sockets in the car. Wagan Tech's PowerCup 6.2 solves this problem by taking the space of only one DC socket and offering 4 USB ports and an additional DC socket. You lose no space, but gain everything. The question posed to you now is, "Why wouldn't you own the power, convenience and portability of a PowerCup 6.2?"
Safe Power Delivery
A beautiful CBL (Cool Blue Light) LED is illuminated when the PowerCup 6.2 is plugged in using its 32 inch long 18 gauge DC power cord; fused at 10A and protected against overload, you get safety, power, and convenience in a single device!
Shape
The cup shape of the PowerCup 6.2 allows for the device to be centrally located and easily accessible while the venting on the PowerCup 6.2 lid ensures that the PowerCup 6.2 stays cool while your devices charge efficiently and safely.
Stay Powered
The PowerCup 6.2 is as functional as it is good looking! Able to power most devices including iPhone, mp3 players, Samsung devices, GPS, tablets, and everything in between, the PowerCup 6.2 can easily charge multiple devices at the same time!
Quick List of Features
4-USB power ports
Maintains your original 12V DC power option (up to 6A)
Modern design and styling
Fits into cup holder (It's cup shaped!)
32" long power cord with 10A fused protection
Can charge iPad, iPhones, Android, Laptops, GPS, and other electronic devices
Venting on lid to keep device cool