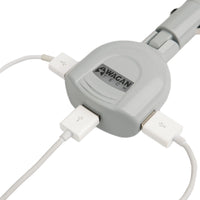 Companion GO 3
$6.91 USD

$14.95 USD
Translation missing: en.products.product.on_sale
SKU: /closeout-2885
NOS Inventory (New, Old Stock)
Warranty is 90 days
Free shipping offer does not apply

Companion GO 3
Wagan Tech's Companion GO 3 offers something that everyone in our modern era needs: Power options! With the constant power needs of today's high tech electronics (and low-tech ones too), the Companion GO 3 allows your vehicle's DC socket to charge up to 3 USB powered devices with high speed.

Features
The Companion GO 3 plugs firmly in to your vehicle's DC socket (cigarette lighter receptacle) and has a 180 degree pivoting head to allow you to angle the Companion GO 3 where you need it. On each side of the Companion GO 3's head, you'll find a 2.4A USB power port and a single 1.0A USB power port located in the center (5.8A total!). On the face of the pivoting head, you will find a CBL (Cool Blue Light) power indicator that lets you know that the Companion GO 3 is receiving power which also creates a "soft-blue glow" at night.

Companion GO 3 Excels
The Companion GO 3 will fit nearly anywhere in a Boat, RV, Camper, Trailer, Car, Truck, SUV, etc. due to the pivoting head design. Whether your vehicle has a center console, in-dash, or hidden DC socket, chances are the Companion GO 3 will fit your needs; making your life easier and more convenient!

Small and Safe
With its compact size, the Companion GO 3 easily fits in your pocket or glove box for storage. Included in the Companion GO 3, a replaceable 5 amp fuse ensures that your devices are protected from damaging voltage spikes.

What it does
The Companion GO 3 will charge cellphones, smartphones, GPS, Walkie Talkies, Bluetooth accessories, and nearly all other USB powered device. It will also power small USB powered devices such as battery chargers, fans, portable speakers, and lights
Quick List of Features
Two 2.4A USB Power Ports & One 1.0A USB Power Port
Charges/Powers nearly all USB devices
180 degree rotating head
Compact Size
Fused Overload Protection
Blue LED Power indicator